$B<!$X(B:
$B$3$NJ8=q$K$D$$$F(B...
$B>e$X(B:
$B5;=Q;qNA(B $BC18l0UL#B0@-$r;HMQ$7$?%Y%/%H%k6u4VK!(B
$BLa$k(B:
$B7kO@(B
Borko, H. Bernick, M. D. 1963.
Automatic Document Classification
In Journal of the ACM, 10, 151-162.
BurkleyChrisSinghl, A.Mitra, M. Salton, G. 1996.
New Retrieval Approaches using SMART
In TREC4. In D. K. Harman (ed.) The second Text Retrieval Conference (TRC2), 25-48.
Deerwester, S.Dumais, S. T.Furnas, G. W.Landauer, T. K. Harshman, R. 1990.
Indexing by Latent Semantic Anlysis
In Journal of the Society for Information Science, 41, 391-407.
Faloutsos, C. Lin, K. I. 1995.
A fast algorithm for indexing data-mining and visualization of traditional and multimedia datasets
In Proceedings of the 1995 ACM SIGMOD International Conference on Management of Data, 163-174.
Golub, G. H. Vanloan, C. F. 1996.
Matrix Computations.
Jiang, M. W.Berry, J. M.Donato, J. M. Osrtouchov, G. 1999.
Mining Consumer Product Data Via Latent Semantic Indexing
In Intelligent Data Analysis, 3, 377-398.
Kwok, K. L. Chan, M. 1998.
Improving Two Stage ad-hoc retrieval for short queries
In In SIGIR'98, 250-256.
Lin, S. H.Shih, C. S.Chen, M. C.Ho, J. M. Ko, M. T. 1998.
Extracting Classification Knowledge of Internet Documents with Mining Term Association
In A Semantic Approach Proc. of the 21st Annual Inernational ACM SIGIR Conference on Reaserach and Development in Information Retrieval.
Salton, G. McGill, J. M. 1983.
Introduction to Modern Information Retrieval.
McGraw Hill New York.
$BCS865\:jGr0f2#Hx>.ARCf4dBg;3NS(B 1997.
$BF|K\8l8lWCBg7O(B.
$B4dGH=qE9(B.
$BLZC+B>(B 1998.
$BF|K\8l>pJs8!:w%7%9%F%`I>2A%F%9%H%3%l%/%7%g%s(BBMIR-J2
$B>pJs=hM}3X2q8&5fJs9p(B 98-DBS-114-3.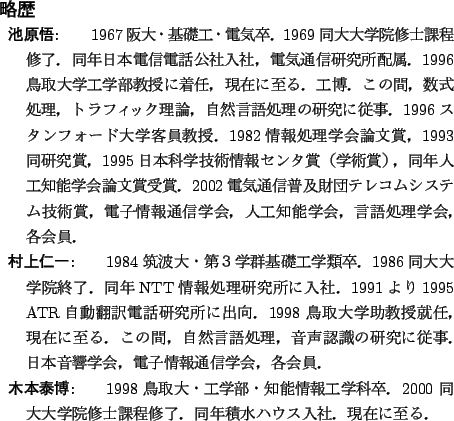 ---
$BJ?@.(B15$BG/(B4$B7n(B18$BF|(B